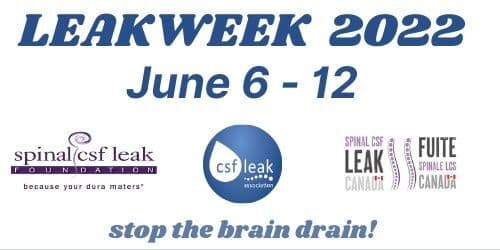 Leak Week 2022 will take place June 6-12 and we are delighted to announce that it will be international! We will be working alongside our 'sister charities' Spinal CSF Leak Canada and Spinal CSF Leak Foundation (USA)

Each charity will be posting regularly throughout the week, highlighting new "Leaker Stories", bringing you facts, and some fun along the way too.
We will be encouraging everyone to take part in 'Wear Blue Too' this year. Wear blue clothing, blue nail polish, blue hair or even face paint! Be creative and post your photos online with #wearbluetoo.
Be sure to join us from 6th June, to be part of it and to share posts from all the charities, helping raise awareness worldwide.
#LeakWeek #wearbluetoo #csfleak